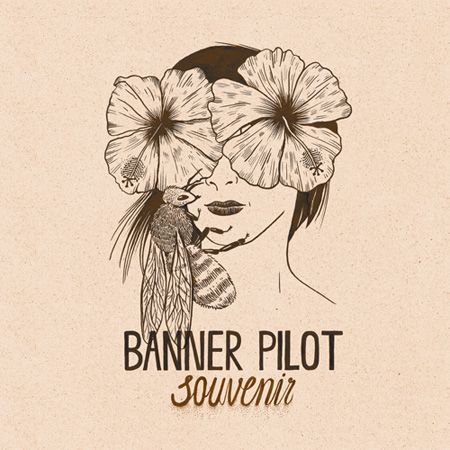 Banner Pilot is the definition of stability. As these Midwesterners grow throughout the years, they still manage to produce a familiar sound — albeit with some pleasant surprises.
This Minneapolis-band pop punk band is what you would get if you mixed mid-90's Blink 182 instrumentals with Jawbreaker's lyrics, and the resulting sound is no less than amazing.
Souvenir, released on April 15 via Fat Wreck Chords, picks up where the band's previous effort, Heart Beats Pacific, left off.
"Modern Shakes" kicks off the record, and it's arguably the album's best song. This track isn't as much of a sing-along as some of their other popular hits, such as "Spanish Reds" or "Skeleton Key." Instead, "Modern Shakes" is one of Banner Pilot's most lyrically-sound tracks to date.
The song also sparked an official music video; a first for the band, despite the fact that they've already released four albums.
"Effigy," the album's second track, is bound to become fan favorite at concerts. This song feels more like it could belong on the band's sophomore album Collapser.  It starts off at a slower-to-medium pace, but it begins to pick up at the refrain. The last half of the track is a full-out thrasher as vocalist Nick Johnson belts out "All I have, we'll burn it up in effigy."
"Letterbox," which rests in the middle of the record, displays some of the release's best lyrics. The track could be a great tune to play acoustically, and it is reminiscent of some of the band's older songs, such as "Isolani" and "Starting at an Ending."
"Now you're the king of all this dust/ Outside alone collecting rust/Where every turn and every scar can all make sense if you don't think too hard."
"Hold Fast" is the most up-tempo track on the album, and it is sure to be a crowd-pleaser live. The refrain on this song is one of the catchiest parts of the entire album.
"And even though I bruise myself on the same concrete and lose some skin/This world can do its worst/It'll never win."
The nearly three-year wait between Heart Beats Pacific and Souvenir — the longest gap between albums that the band has ever had — was worth it. Let's just hope the process doesn't become longer as they vigorously tour to support their newest album.
Rating: 4.5/5
---
rttoohey@gmail.com | Twitter: @rttoohey
Photo credit: http://www.fatwreck.com